Ardore, Reggio Calabria
Births 1857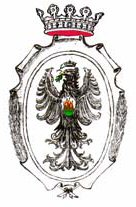 Here you will find extractions of the births recorded in Ardore for 1857. Links to actual images are not yet available. These records may also include births recorded for the Comuni of Bombile and San Nicola. I have tried to extract the names as best as possible but as with all things, mistakes can happen.
You can also use the table below to see the indici for persons born in Ardore for this year. Births for this year are indexed by last names and there is also one delayed birth registered from 1856.
A special thank you to Mary Harvey, originally from Ardore for taking the time to extract these records. She is researching the names Mulè, Salinitri, Nobile, Morabito, and Chinè and can be contacted through this site by using the feedback form.
To report a broken link, or make a correction, please feel free to contact me .
   
COMPLETE BIRTHS 1857
Act
Surname
Name
Father's Name
Mother's Name
Birth
Town
1
D'Anna
Maria
Domenico
Catarina Filippone
5 Mar 1857
Ardore
2
D'Anna
Maria Rosa
Vincenzo
Antonia D'Agostino
16 Feb 1857
Ardore
3
D'Agostino
Maria Concetta Carmela
Giovanni
Domenica A. Marando
27 Apr 1857
Ardore
4
Ammendolia
Antonio
Domenico
Catarina Barbatano
22 May 1857
Ardore
5
Arcuri
Catarina Maria
Giuseppe
Saveria Spatolisano
25 Aug 1857
Ardore
6
Arcuri
Domenico Giuseppe
Domenico
Sarafina Zappavigna
8 Mar 1857
Ardore
7
Arcuri
Teresa Maria
Giuseppe
Saveria Spatolisano
25 Aug 1857
Ardore
8
Armeni
Rosa
Bruno
Catarina Parlongo
7 Mar 1857
Ardore
9
Armeni
Vincenzo
Bruno
Catarina Parlongo
7 Mar 1857
Ardore
10
Bono
Giuseppe
Francesco
Maria Franco
30 Nov 1856
Ardore
11
Bono
Giuseppe
Domenico
Antonia Franco
7 Apr 1857
Ardore
12
Bova
Bruno
Domenico
Maria Varacalli
2 Jul 1857
Ardore
13
Brizzi
Catarina
Carlo
Carmela Cavcoi
20 May 1857
Ardore
14
Brizzi
Maria
Carlo
Carmela Cavcoi
20 May 1857
Ardore
15
Brizzi
Maria Concetta
Carlo
Catarina Zappia
18 Feb 1857
Ardore
16
Brizzi
Vincenzo
Saverio
Rosa Napoli
20 Jul 1857
Ardore
17
Callipari
Giovanna
Giovanbattista
Antonia Trimboli
24 Jun 1857
Ardore
18
Camera
Rosa
Bruno
Maria Camera
21 Jun 1857
Ardore
19
Capogreco
Bruno
Giuseppe
Francesca Pelle
5 Jun 1857
Ardore
20
Castelvetere
Maria Antonia
Bruno
Francesca Spatolisano
27 Jan 1857
Ardore
21
Castelvetere
Salvatore
Giuseppe
Rosa Macri
19 Jun 1857
Ardore
22
Clemente
Giuseppe
Luigi
Catarina Catanariti
13 Dec 1857
Ardore
23
Chiricosta
Domenico
Giuseppe
Elisabetta Gelonese
3 Dec 1857
Ardore
24
Chiricosta
Francesco Antonio
Giuseppe
Rosa Trimboli
29 Sep 1857
Ardore
25
Chiricosta
Giuseppe
Giovanni
Sarafina Macri
3 Dec 1857
Ardore
26
Chiricosta
Maria Teresa
Giuseppe
Elisabetta Minniti
12 Dec 1857
Ardore
27
Codispoti
Arcangelo
Don Francesco
Donna Rosina Giordano
4 Jun 1857
Ardore
28
Codispoti
Giuseppe
Don Domenico
Donna Carmela Codispoti
17 Oct 1857
Ardore
29
Commisso
Vincenzo
Rocco
M. Franco
4 Mar 1857
Ardore
30
Cosentino
Don Carmelo
Don Antonino
Donna Ceilia No..mo
6 Mar 1857
Ardore
31
Cosentino
Errico
Ferdinando
Rosina Camera
20 Nov 1857
Ardore
32
Cosentino
Vincenzo
Giuseppe
Maria Rulli
30 Oct 1857
Ardore
33
Costarello
Giglio
Don Giuseppe
Donna Luigia Parlo
1 Jan 1857
Melito
34
Crea
Pasquale Maria Cristino
Domenico
Giuditta Franco
11 Jun 1857
Ardore
35
Crisafi
Catarina
Giuseppe
Rosa Castelvere
28 May 1857
Ardore
36
Crisafi
Francesco
Bruno
Maria Marando
19 Jun 1857
Ardore
37
Cristarella
Giovanni
Giuseppe
Rosa M...
11 Feb 1857
Ardore
38
Cristarella
Maria Rosa
Bruno
Maria Dattilo
6 Jul 1857
Ardore
39
Cutrulla
Maria
Bruno
Rosa Morabito
3 Oct 1857
Ardore
40
Ferrò
Domenico
Ferninado
Teresa Zappavigna
11 Feb 1857
Ardore
41
Ferrò
Maria Antonia
Vincenzo
Concetta ?
17 MAy 1857
Ardore
42
Filippone
Giuseppe
Carlo
Raffaela Varacalli
2 Sep 1857
Ardore
43
Foti
Don Pasquale
Don Giuseppe
Donna Rachela Tropea?
4 Nov 1857
Gioiosa Ionica
44
Franco
Giovanni
Francesco
Elisabetta Trimboli
24 Jun 1857
Ardore
45
Gallo
Francesco Antonio
Giuseppe
?
15 Sep 1857
Ardore
46
Landro
Francesca Maria
Unknown
Rosa Landro
15 Feb 1857
Ardore
47
Lapa
Giuseppe
fu Giuseppe
Catarina Spanò
12 Sep 1857
Ardore
48
Longo
Francesca
Domenico
Rosa Galluci
13 Mar 1857
Ardore
49
Macri
Bruno
Bruno
Maria Todarella
12 May 1857
Ardore
50
Macri
Bruno
Saverio
Catarina Caltaldo
26 Jun 1857
Ardore
51
Macri
Don Carlo
Don Giuseppe
Donna Candita Franco
24 Nov 1857
Ardore
52
Macri
Catarina Maria
Vincenzo
Antonio Lioi
25 Jul 1857
Ardore
53
Macri
Concetta
Giuseppe
Maria Procopio
24 Apr 1857
Ardore
54
Macri
Francesca
Michelangelo
Giuseppa ?
10 Feb 1857
Ardore
55
Macri
Vincenzo
Antonio
Rachela Costentino
22 Jan 1857
Bovalino
56
Marando
Carlo
Rocco
Zappavigna
8 Feb 1857
Ardore
57
Marando
Giuseppe
Francesco
Maria Pazzano
5 Jun 1857
Ardore
58
Marando
Giuseppe
Unknown
Catarina Marando
5 May 1857
Ardore
59
Marando
Maria Teresa Clementina
Don. Tommaso
Donna Grazia Totino
13 Mar 1857
Ardore
60
Marando
Pietro
Francesco
Antonia Morabito
26 Nov 1857
Ardore
61
Marzano
Giuseppe
Antonio
Catarina Gallo
5 Jan 1857
Ardore
62
Marzano
Vincenzo
Francesco
Rosa DeBartolo
12 Jun 1857
Ardore
63
Masino
Maria Teresa Silvestra
Pasquale
Signora Antonia Romeo
31 Jun 1857
Ardore
64
Maurelli
Catarina
Lorenzo
Antonia Zappia
21 Dec 1857
Ardore
65
Maurelli
Maria Teresa
Giuseppe
Antonia Barbatano
28 Jul 1857
Ardore
66
Minniti
Giuseppe
Antonio
Mena Grillo
20 Jul 1857
Ardore
67
Minniti
Domenico Maria
Bruno
Francesca ?
3 May 1857
Ardore
68
Minniti
Maria Rosa
Domenico
Teresa Romeo
4 May 1857
Ardore
69
Mittica
Giuseppe
Bruno
Catarina Crisafi
4 Jun 1857
Ardore
70
Mittica
Giuseppe Antonio
? Rosario
Lorenza Cosentina
? Jun 1857
Ardore
71
Monteleone
Giuseppe
Carlo
Maria Capogreco
28 Apr 1857
Ardore
72
Morabito
Catarina
Francesco
Elisabetta Minniti
30 Mar 1857
Ardore
73
Morabito
Catarina Elisabetta Maria
Giuseppe
Giuseppa Zappavigna
29 Jul 1857
Ardore
74
Morabito
Domenico
Vincenzo
Maria Pelle
24 Mar 1857
Ardore
75
Morabito
Francesca Maria
Ignato
Maria Morabito
16 Mar 1857
Ardore
76
Morabito
Filomena
Francesca
Maria Longo
23 Aug 1857
Ardore
77
Morabito
Giuseppe
Saverio
Rosa Stra..
24 Jan 1857
Ardore
78
Morabito
Giuseppe
Salvatore
Maria Napoli
4 Mar 1857
Ardore
79
Morabito
Giuseppe Filippo
Bruno
Teresa Morabito
18 Mar 1857
Ardore
80
Morabito
Maria Teresa
Bruno
Rosa Romeo
15 Mar 1857
Ardore
81
Morabito
Maria Rosa
Antonio
Sarafina Zoccala
15 May 1857
Ardore
82
Muscolo
Rosario
Giuseppe
Teresa Sgroi
2 May 1857
Ardore
83
Napoli
Giuseppe
Vincenzo
Elisabetta Todarello
27 Jun 1857
Ardore
84
Nobile ?
?
Giuseppe
Rosa Talladira
10 Jun 1857
Ardore
85
Parlongo
Pietro
Giuseppe
Rosa Sollazzo
28 Jun 1857
Ardore
86
Pelle
Maria Antonia
Giglio
Anna Zappia
21 Aug 1857
Ardore
87
Pelle
Natale
Francesco
Rosaria Talladira
25 Dec 1857
Ardore
88
Pazzano
Francesca
Giovanbattista
Giuseppa Nocera
12 Jul 1857
Ardore
89
Pisciuneri
Domenico
Francesco
Angela D'anna
18 July 1857
Ardore
90
Pisciuneri
Maria Rosa
Vincenzo
Maria Antonia Romeo
15 July 1857
Ardore
91
Primerano
Concetta
Vincenzo
Rosa Bova
22 May 1857
Ardore
92
Primerano
Pietro Antonio
Saverio
Maria D'anna
27 Jun 1857
Ardore
93
Pratò
Carlo Giuseppe
Vincenzo
Francesca Raso
29 Mar 1857
Ardore
94
Procopio
Maria Antonia
Domenico
Concetta Parlongo
20 Jul 1857
Ardore
95
Procopio
Nicola
Giuseppe
Francesca Talladiro
17 Oct 1857
Ardore
96
Procopio
Saverio
Domenico Antonio
Giovanna DeBartolo
18 Jan 1857
Ardore
97
Raco
Giovanna Rosa
Giuseppe
?
3 OCt 1857
Ardore
98
Rianò
Errico Francesco Paolo
Don Pasquale
Donna Isabella Nobile
25 May 1857
Ardore
99
Rianò
Donna Maria Cristina
Don Giovanni
Donna Giuditta Fraseà
30 Oct 1857
Ardore
100
Ripolo
Errico
Vincenzo
Maria Bova
1 Nov 1857
Ardore
101
Ripolo
Giuseppe
Vincenzo
Maria Bova
1 Nov 1857
Ardore
102
Romeo
Anzelmo Errico
Giuseppe
Maria Giuseppa Zappavigna
5 Sept 1857
Ardore
103
Romeo
Ferndinando
Bruno
Sarafina Minniti
24 May 1857
Ardore
104
Romeo
Francescantonio
Vincenzo
Rosa Cristarella
8 Jun 1857
Ardore
105
Scali
Elisabetta
Vincenzo
Francesca Sgambelone
21 May 1857
Cittanuova
106
Santo ?
Antonia
Vincenzo
Catarina ?
25 May 1857
Ardore
107
Sanzotta
Antonia Catarina
Antonio
Maria Zuccala
18 Mar 1857
Ardore
108
Sanzotta
Maria Concetta
Cosimo
Maria Talladira
18 Mar 1857
Ardore
109
Schirripa
Giuditta
Antonio
Raffaela D'anna
9 Mar 1857
Ardore
110
Schirripa
Rosa Maria
Domenicoantonio
Catarina ?
23 Aug1857
Ardore
111
Spanò
Gio Battista
Bruno
Vittoria ?
7 May 1857
Ardore
112
Spanò
Giuseppa
Giuseppe
Raffaela Morabito
1 Feb 1857
Ardore
113
Spanò
Maria Teresa Francesca
Vincenzo
Giuditti Brizzi
6 Apr 1857
?
114
Spanò
Saverio
Bruno
Maria Zappavigna
22 Apr 1857
Ardore
115
Spatolisano
Bruno
Francesco
Francesca Cristarella
22 Sep 1857
Ardore
116
Sofio
Vincenzo Giuseppe
Antonio
Rosaria ?
16 Mar 1857
Cittanuova
117
Sollazzo
Concetta Rosa
Domenico
Rosa Pelle
20 Feb 1857
Ardore
118
Sollazzo
Maria
Domenico
Catarina Morabito
8 Oct 1857
Ardore
119
Sollazzo
Domenico
Giovanni
Catarina Nocera
5 Nov 1857
Ardore
120
Stellisano
Ferdinando
Francesco
Maria Parlongo
23 Oct 1857
Ardore
121
Talladira
Maria
Saverio
Francesca Acuri
13 Apr 1857
Ardore
122
Talladiro
Rosa
Domenico
Giuseppa Morabito
5 Feb 1857
Ardore
123
La Telo
Francesco Saverio
Salvatore
Elisabetta C...o
10 Oct 1857
Ardore
124
Taverniti
Francesca Maria
Andrea
Sarafina Minniti
23 Feb 1857
Ardore
125
Todarello
Giovanni Francesco
Giuseppe
Sarafina Maurelli
24 Jun 1857
Ardore
126
Todarello
Giuseppa Maria
Bruno
Catarina ?
2 Aug 1857
Ardore
127
Trimboli
Giuseppe Francesco
Antonio
Maria Schirripa
6 Jul 1857
Ardore
128
Trimboli
Giuseppe
Vincenzo
Maria Sollazzo
30 Nov 1857
Ardore
129
Zappavigna
Bruno
Vincenzo
Catarina Logiono
13 Nov 1857
Ardore
130
Zappavigna
Francesco
Domenico
Rosa Longo
25 May 1857
Ardore
131
Zappavigna
Giuseppe
Bruno
Maria Raco
14 Sep 1857
Ardore
132
Zappavigna
Giuseppe
Luigi
Antonia Brizzi
9 Nov 1857
Ardore
133
Zappavigna
Maria Antonia
Bruno
Rosa Ferrò
18 Mar 1857
Ardore
134
Zappavigna
Maria Rosa
Bruno
Zappagivigna Giuditta
2 Apr 1857
Ardore
135
Zappavigna
Maria Teresa
Giuseppe
Catarina Giovannazzo
23 Apr 1857
Ardore
136
Zappavigna
Nicolina
Giuseppe
Rosa Mo...
14 Mar 1857
Ardore
137
Zappavigna
Rosa
Carlo
Francesca Ripolo
24 Jan 1857
Ardore
138
Zappavigna
Sarafina
Domenico
Antonia Chiricosta
13 Feb 1857
Ardore
139
Zappia
Carlo
Antonio
Serafino Pezzano
23 Jul 1857
Ardore
140
Zuccalò
Rosa
Giovanni
Elisabetta Sollazzo
17 Apr 1857
Ardore